*Licensed   *Bonded  *Insured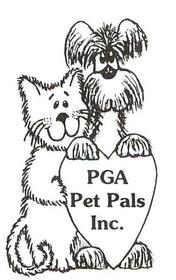 Loving care when you can't be there

If you're anything like us, you have an incredible bond with your dogs and cats. When you're out of town, you want to make sure they're with someone who will love them just as much as you do. That's why we do what we do, to give you peace of mind when you can't be there, be it for while you are at work or an extended trip, or just for a few hours away from Rover and Fluffy.  So, leave them in good hands and enjoy yourself. 

PGA Pet Pals, Inc. has been providing our full time professional pet sitting services in Palm Beach County since 1994. We started in PGA National and expanded from there into Palm Beach Gardens and up to Jupiter.

Our mission is simple: To love and care for each and every animal just like we would want someone to take care of ours.

We guarantee your peace of mind while you're away. If anything happens, we'll contact you immediately.

Why should I use a professional pet sitter?

Benefits for your Pet(s) include:

Staying at home in their safe, secure familiar environment
Being able to stick to his/her routine including their regular diet, exercise and medications, if needed
Having play time with their toys in their own yard or in their home
Receiving love and personal attention
Having someone responsible in case of an emergency
Being home when you get home and avoiding travel to and from an unfamiliar environment
Maintaining their current good health (no exposure to other animals' illness or parasites)

Benefits for the Pet Parent include:

Knowing they are getting loving care when you can't be there
Having the confidence that the pet sitter can deal with any issues that arise and if not, we will contact you
When you return home your pets will be there awaiting your arrival
Eliminating the trauma of having to transport and leave your pet
No longer needing to impose on family, friends or neighbors
Feeling your home is more secure with us providing your house the lived in look (with someone coming and going everyday)